Frogsfolly founders move to Poland

Lesley has accepted position in Lodz, Poland. Lesley, Marlis and Mark have moved to Poland are are living in a rented house. We have lots of room and welcome visitors.
Here is some information about Lodz and Poland:

Since the fall of Communism, Poland is on the move and growing fast in a free-market economy. It's a wheat farmer, a coal producer, a member of NATO and an increasingly popular skiing and hiking destination.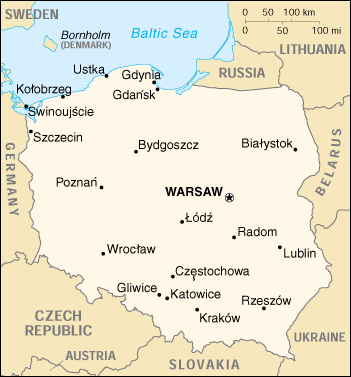 Quick Facts and Figures
Official Name Republic of Poland
Capital City Warsaw
Climate Temperate with cold, moderately severe winters with frequent precipitation; mild summers with frequent showers and thundershowers
Latitude/Longitude 52? 00'N, 20? 00'E
Languages Polish (official)
Official Currency Zloty
Religions Catholic, others
Population 38,644,000
Land Area 304,460 sq km (117,552 sq miles)
Landforms Fronting the Baltic Sea, lowland plains cover most of the country with the Carpathian Mountains along the southern border with Slovakia
Land Divisions 16 provinces

Suggested Links